Day 1 :
Keynote Forum
M&Ms Consulting Ltd, Borehamwood WD6 1QQ, UK
Time : 09:15-09:55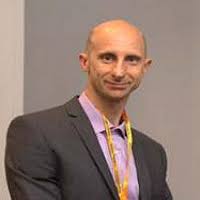 Biography:
Marcello Menapace is a researcher, philosopher, scientist, medical writer, and professional regulatory consultant. He has completed his first Master's degree at the University of Milan (IT) in Chemistry, his second Master's degree in Business Administration (MBA) at the London School of Business and Finance in London (UK) and his PhD in Life Science at the H. S. University in Philadelphia (US). He has published several scientific papers on Science, Ethics and Nutrition, has been honorable speaker, chair and co-chair in European and International Conferences and is currently collaborating with Biotech Companies and Journals as Reviewer and Co-Editor.
Abstract:
Recent advances in glycobiology have described the inner workings of the much debated blood type diets (BTD). The confirmed presence of special sugars (glycans) in all foods explain how and why people of different blood type react differently to food. All women and men can be effectively divided into four blood groups: A, B, AB and O. The BTD has been devised empirically but can now be demonstrated theoretically, too. This characterization of humanity into distinct groups (or constitutions) is neither unique nor a recent discovery. Traditionally, all medicines have always helped humanity overcome diseases with its own special interventions based on a particular constitution of the individual: most of which focused on adjusting ones diet. It can be claimed that all non-Western (Eastern) medicines (from Unani, to traditional Chinese medicine, Ayurveda, etc) and Western medicines of the past (especially, traditional Western medicine) acted in this way. While the number of somatotypes may according to tradition, the fundamental concepts remain the same. A new paradigm has emerged of late which have futher confirmed the already strong scientific backing to these medicines and traditions: the holobiont. Through the biological underpinnings of the microbiota-host interactions it is possible to attain a synthesis between the two biotypologies, which are not mutually exclusive. In this way, each individual can be described as a function of its genetic and physical characteristics. The result is a new nutritional system, which takes into account both the well-tested traditional suggestions (seasonal foods, etc) and the contemporary biological medicine.
Keynote Forum
University of Sassari, Italy
Biography:
Among neurodegenerative disease Parkinson's disease (PD) represents the second most widespread . Observational studies have linked the occurrence of PD to environmental exposures and lifestyle habits, signifying a huge field of research in order to improve PD prevention or disease modification in populations but also in individuals.Up to now, gene–environment interactions and other factors as chemical exposure, physical activity, dietary habits or smoking have been deepened. From observational studies several low-risk and potentially high-yield recommendations for lifestyle modification have been formulated, in particular, dietary modifications. So, the role nutrition in both neuroprotection and neurodegeneration has become important for neuroscientists and nutritional neuroscientists.Several studies have emphasized that some nutrients may increase an individual risk for PD, while others may be neuroprotective. Such evidences are not unexpected, as some foods are able to impact on the functions of mitochondria, and therefore on the production of free radicals, while others perform very important antioxidant functions, necessary to block the harmful behavior of free radicals. So, it has been demonstrated how a poor diet can determine an increase of oxidative stress impairing the antioxidant defense system, while a well-balanced diet can govern some neuroprotection.Some nutrients, as diary product, have been linked to an augmented risk of PD, while others as phytochemicals, caffeine, genistein, or tea polyphenols and alcohol have been associated with a reduced progression of PD.It exist a lack in epidemiological studies evaluating dietary factors and PD, so those studies would deserve further attention. Moreover, considering critical factors as non-motor symptoms, such as dysphagia, depression, constipation or dehydration, which can substantially impact the quality of the diet, should ameliorate the importance of studies evaluating the role of nutrients in PD.
Abstract:
Gaia Rocchitta has completed her graduation in chemistry in 1999 with a thesis about polyphenols in red wines, then she completed her PhD in Neuroscience at School of Medicine of Sassari University (Italy) in 2004. She was a Postdoctoral fellow at School of Chemistry and Chemical Biology, University College, Dublin (Ireland) in 2006, working on the development of amperometric biosensors for in vivo-monitoring of neurochemical compounds. She currently is a tenured researcher and lecturer in Pharmacology and Nutraceutical at School of Medicine of Sassari University (Italy). She has published more than 50 papers in peer-reviewed journals.
Nutrition and Public Health | Nutrition and Health | Nutrition and Diabetes | Nutritional Science
Location: Olimpica 1